Jacques Greene - ANTH01
16th September 21
Announced Today. A collection of Tracks from early out of print Jacques Greene 12"s spanning the first 10 years of his career. Featuring the classics that introduced him to the world - The Look and Another Girl - as well as collaborations with Koreless and How To Dress Well tracks from his releases on 3024, Night Slugs and his own Vase imprint and two new exclusive lost tracks from the era: 'I Won't' and 'Faded'.

Lunice Anniversary Reissues
8th September 21
A decade since he first appeared on LUCKYME®. Lunice brings special editions of his first 3 EPs - Stacker Upper, One Hunned and 180º. He has raided the archives and made unreleased tracks available for the first time. These new expanded deluxe vinyl versions also include significant remixes from the likes of Rustie and Girl Unit. Vinyl/Tshirt Bundles available in the store.


→ more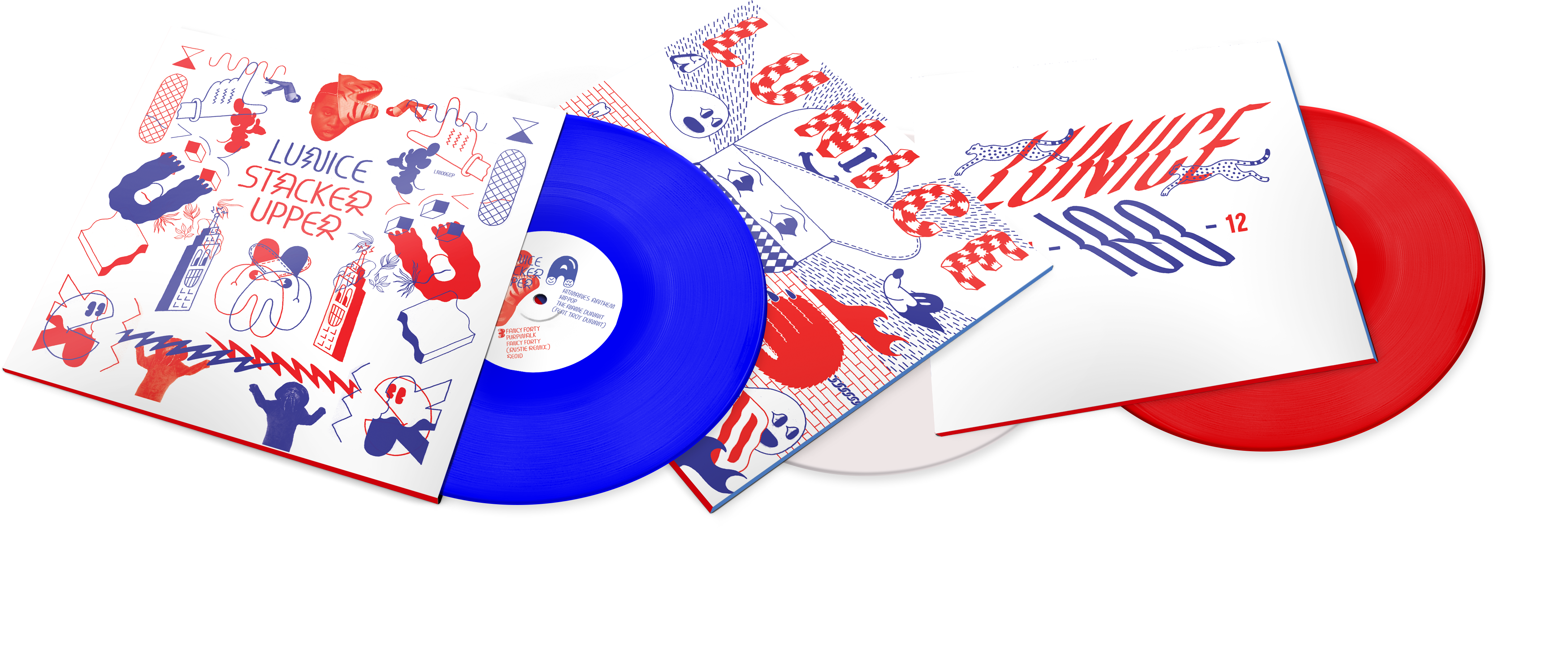 Songs of Vienna
1st September 21
Today we announce the new album by Clemens Bacher aka CID RIM. Songs from Vienna is a psychedelic ride from the Austrian capital.

For around a decade Clemens has built a scene in Vienna for jazz influenced electronic music. Working as songwriter and producer with Petite Noir, Denai Moore and Damon Albarn over the last five years it became natural to involve his own voice in his music. When we started receiving demos from Clem, featuring hazy beach boys harmonies we knew his music was daring to evolve.

Songs of Vienna, out October 15, is an album of the year. It feels like the world at the moment... saturated with history and daring to leap into the future for answers. These songs work as intimate pop records - a young man moving to London and reflecting on his home town. Or treaties on a symbolic Vienna: colonialism, social democracy and the climate disaster. But the album is refreshing, full of life and sonically unmatched: with live instrumentation and choirs brewed into his electronic compositions, Clemens has made a brave leap forward. And you gotta hear this thing...


Hærny
31st July 21
Baauer (Harry) & RL Grime (Henry) collab released today with our friends at Sable Valley to commemorate their headline at HARD Summer


Lights Down Low
30th July 21
Jacques Greene & Doss head up LA mainstay Lights Down Low in secret location


"Cult DJ Doss"
27th July 21
Interview Mag attends Doss New York headline show with Shayne Oliver, Goth Jafar, Abby and Nick Leon
Icons

25th June 21Proud to release the new album by NYC percussionst & composer Eli Keszler. Icons out June 25: a latticework of melodic percussion, drum set, and electro-acoustic instrumentation, built upon fragments of American abstraction, ancient scales, industrial percussion and jazz-age film noir to achieve its feeling of imperial decay. Keszler's instrumental performances are framed by panoramic recordings of New York City and the Odyssey Cave. Expansive music that takes on forms difficult to describe outside of the loss and wonderment that defines our age

Kučka
30th Apr 21
Proud to announce KUČKA's debut album is out today. The Guardian gave 'Wrestling' lead review: "Wrestling sounds like nothing else out_ this year, which shouldn't be surprising given that its author is a conduit for the most cutting-edge sounds in the world." → more
→ more
→ more
Features: New Music Writing
26th Feb 21
We launched a new section of our site dedicated to great music writing from friends of the label. The series starts with R.C. Clarkes piece 'Microtuning'. In his own words, a piece "... about tuning our ears to some frequencies of blackness we may have forgotten about." → more


Jacques Greene: Promise
24th Feb 21
Jacques Greene posted a 6 second clip of new song 'Promise' to NFT art platform, Foundation. The owner of the file also gains the publishing rights to the track. An original application for NFT and the prospects of Web3, Promise sold for 13ETH (worth $24,300 at the time of sale) and was covered by Music Week, First Floor, RA and DJ Mag. The project raises many questions about the value of music. We explore those themes in detail, here → more


LMNFT001
21st Feb 21
To launch our new page on Foundation we minted an original illustration from our first release, Hudson Mohawke Says Oops! → more


Wrestling
2nd Sep 21
KUČKA announced her debut album out on LuckyMe in April, via BBC R1X premiere with Jamz Supernova. In Australia the new single 'No Good For Me' was premiered on Triple J → more


TNGHT
2nd May 21
Good day for TNGHT. Hud Mo launched a clothing collab with Braindead and jumped up on their NTS show. Lunice dropped new single 'Run Around' → more


How Long Gone
1st Feb 21
Baauer gives as good as he gets on Them Jeans and Chris Black's 'How Long Gone' Podcast → more


Sophie
30th Jan 21
We met Sophie in 2013 around the release of 'Nothing More To Say'. Quiet, smart and iconoclastic - her talent was obvious. When putting on these shows - stressful showcases running around foreign cities - we take for granted the trust we gain for each other. To discuss how you were to perform was to understand how you wanted to present. It lead to conversations about art and music that became the basis of our friendship. Sophie, we love you and would of loved to see where you would take us.


Advent
12th Dec 20
Our advent calendar 2020 is out everywhere. Buy it from bandcamp. 50% of the profit goes to the artists. The other 50% goes to charity → more


CID RIM
8th Dec 20
A new CID RIM song premiered in Apple's launch for the AirPod Max. The track's a hint of what's to come from Clemens. We can't wait to let you hear this album → more


Industry (HBO)
4th Dec 20
In collaboration with HBO, Badwolf and the BBC - LuckyMe proudly present Nathan Micay's official soundtrack to 'Industry', a series centered on new graduates finding their place in the hedonistic world of international banking. The score is Nathan's best work to date: a timeless, evoactive synth score due to receive a lot of attention → more


Baauer - The Boptape3rd Dec 20
As a thank you to fans for the support this year, Baauer drops a 19 track mixtape of tracks made live on Twitch - hosted by comedian Patti Harrison → more


Planet's Mad is GRAMMY® Nominated
26th Nov 20
Planet's Mad by Baauer has been nominated for best Electronic / Dance Album Of The Year at the 2020 Grammys → more


Nosaj Thing - No Mind
21st Oct 20
Jason Chung releases an ep of beats and ambient electronics, evocative of Susumu Yokota & Angelo Badalamenti... → more


Beat Battle
20th Oct 20
Lunice jumps up on Kenny Beats Twitch to host the beat battle → more


The Poundcast
19th Oct 20
Baauer guests on DJ Doug Pound's podcast → more


Ascension
14th Oct 20
Kučka drops a new single with a premiere at Triple J. A record about contual growth, 'Ascension' received an amazing video from director Dillon Howl → more


Get Up!
13th Oct 20
Clem Bacher aka CID RIM returns to LuckyMe with a glowing new single. The track featured in Apple's new keynote → more


RIP James Stinson 3rd Sep 20 James Stinson passed on this day 18 years ago. A thread in memory of one of the greatest artists of Detroit electronic music → more


In Session
1st Sep 20
A week-long intensive producer camp for women and non-binary producers of color → more


Nosaj Thing signs to LuckyMe
29th Aug 20
After ten years of friendship, Jason Chung signs to LuckyMe for an album in 2021. New single "For the Light" out now → more


Poom Jems
28th Aug 20
Hudson Mohawke drops another surprised album, purging the devil's PC for Warp → more